E-Update from the Desk of Governor Scott Walker
One of the most important duties I have serving as your Governor is to provide you directly with updates related to the operation of our state government. I also frequently provide updates on Facebook (Governor Scott Walker) and Twitter (@GovWalker). Please feel free to share this update with your family, friends, and others who may be interested in state government operations.
---
Today, we had the opportunity to tour McGlynn Pharmacy in Stoughton with Dan Blomgren, one of the employees, and Dan McGlynn, the owner of the pharmacy. Dan Blomgren is employed there through a connection to Community Living Connections (CLC), a non-profit support organization for adults with developmental disabilities.
People like Dan, are some of the hardest working employees businesses can find. This year, I hope to highlight employees, businesses, and programs assisting our neighbors with unique abilities. Finding opportunities for people with disabilities is beneficial for everyone involved – the individual finds dignity through work and contributing their talents, and the business gains a dedicated employee.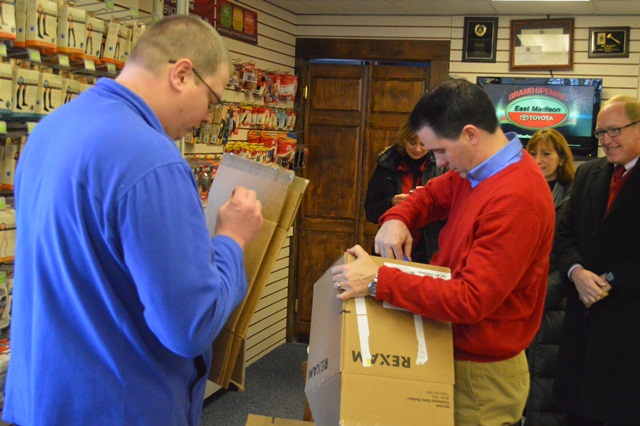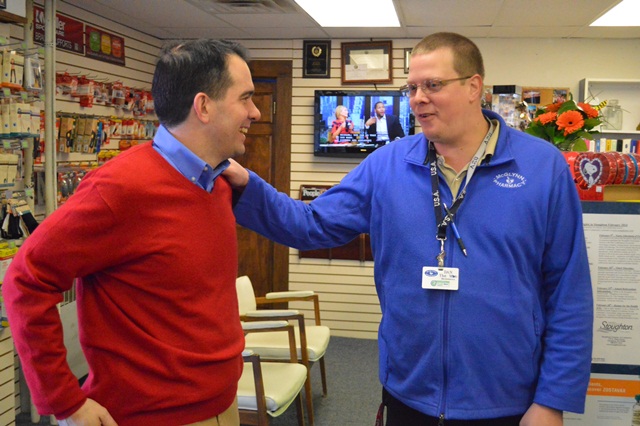 2014 – Year of a Better Bottom Line:


Governor Walker proclaimed 2014 as the Year of a Better Bottom Line to encourage and promote employment opportunities for people with disabilities. A Better Bottom Line is tailored after Delaware Governor Jack Markell's initiative, which also detailed the vast benefits for employers, employees, and communities.


During the Year of a Better Bottom Line, Governor Walker is directing state agencies to focus on building, recognizing, and promoting public and private programs, companies, and organizations that are improving employment opportunities for people with disabilities, including veterans and students.


Under Governor Walker's Blueprint for Prosperity, the state will expand Project SEARCH, a program helping young people with disabilities transition from high school to the workplace. The expansion would increase the number of participating businesses by 20, from seven, over the next three years.


Governor Walker recently signed legislation to increase the number of people served by the Division of Vocational Rehabilitation by 6,000. This will allow the state to reduce or eliminate the waiting list of persons with disabilities seeking assistance with jobs skills training and advocacy, so they can enter the workforce.
---
Far too many Wisconsinites are in need of mental health care, and because of circumstance or location, they are unable to access the care they desperately need. These bills, which I was proud to sign at the Brown County Human Resources Center in Green Bay on Thursday, allow us to take a huge step forward in the cause to ensure every individual living with mental illness gets the care they need. I thank the members of the Legislature for their bipartisan work on these bills.
Here is a list of the bills I signed into law:
Assembly Bill 450 – provides grants for crisis intervention to train law enforcement and correctional officers to assist individuals who are in a mental crisis. The bill provides $250,000 to the Department of Health Services for the grants; counties and municipalities around the state will have the opportunity to apply.
Assembly Bill 452 – directs the Department of Health Services (DHS) to administer a child psychiatric consultation program. Under this bill, primary care pediatricians will be given the proper tools to treat children with mental health needs. DHS will contract with an organization to provide consultation, referral support, second opinions on diagnoses and medication, among other services.
Assembly Bill 454 – creates a primary care and psychiatry shortage grant program for physicians and psychiatrists who: graduated from a Wisconsin medical school; graduated from a Wisconsin graduate medical education training program emphasizing primary care medicine or psychiatry; already practice in an underserved region of the state; apply for the grant while participating in graduate medical training and before accepting employment as a primary care physician or psychiatrist; and do not appear on the child support lien docket, unless a payment agreement has been reached. A maximum of 12 physicians and 12 psychiatrists may receive a grant in a fiscal year.
Assembly Bill 455 – establishes grants to counties to contract for peer-run respite centers. Respite centers are a low-cost alternative to inpatient care offering a warm bed and peer counseling with the goal of diffusing crisis situations.
Assembly Bill 458 – increases access to mental health services for children in rural areas. The bill defines "telehealth" as the use of audio and video connections, over a secure internet connection, to create the same environment as conventional therapy. Using telehealth will allow providers to connect with children in need who would not otherwise have access to care.
Assembly Bill 459 – establishes an Individual Placement and Support (IPS) program in five regions in the state. The IPS program provides counseling, mentor programs, and vocational rehabilitation services. Assembly Bill 459 aligns with our "Year of a Better Bottom Line" by assisting individuals with mental illness transition to the workplace, as a part of their recovery.
Assembly Bill 460 – provides grants to counties to establish a mobile crisis program. The program will train mobile crisis teams to respond to individuals having a crisis episode. A mobile crisis team will provide greater access to people living in rural counties that do not already have access to this type of resource. Teams will help keep people stable and in the community.
---
Our economy is improving and that is evidenced by companies, like Signicast, which are taking the opportunity to grow their business here. Signicast manufactures commercial grade investment castings utilizing low alloy, carbon, stainless, and nickel base steels.
Signicast has a bold, long-term plan to invest $150 million in operations over the next 15 years, with an expectation to create 500 jobs. The event earlier this week highlights phase one of the project as it nears completion. The expansion began in May 2011 with the purchase of 52 acres for the construction of two new production facilities. Module #7 will be the largest of Signicast's facilities at 110,890 sq. ft. and operations are set to begin during the first quarter of 2014. Since 2012, the company has added 200 new employees, and is looking to add another 100 positions in the manufacturing, engineering, IT/automation, maintenance, and tooling departments.
Founded in 1959, the company operates seven facilities in Hartford and one in Brown Deer, Wisconsin. Signicast employs over 830 employees and is one of the world's most innovative and automated commercial investment casters, offering a diverse number of products to hundreds of customers. Signicast was named a "2011 Top Workplace" by the Milwaukee Journal Sentinel.
---
President Reagan is a legend whose no-nonsense common sense approach inspired a nation and led us back to the path to prosperity. His timeless ideas continue to influence political thought and governance. Our country is better today because President Reagan had the conviction to make the prudent decisions that needed to be made.
---
It has been a pleasure communicating with you. It is an honor to serve as your Governor and represent the residents of Wisconsin.
Sincerely,
Governor Scott Walker